Say goodbye to unwanted hair: the magic of laser hair removal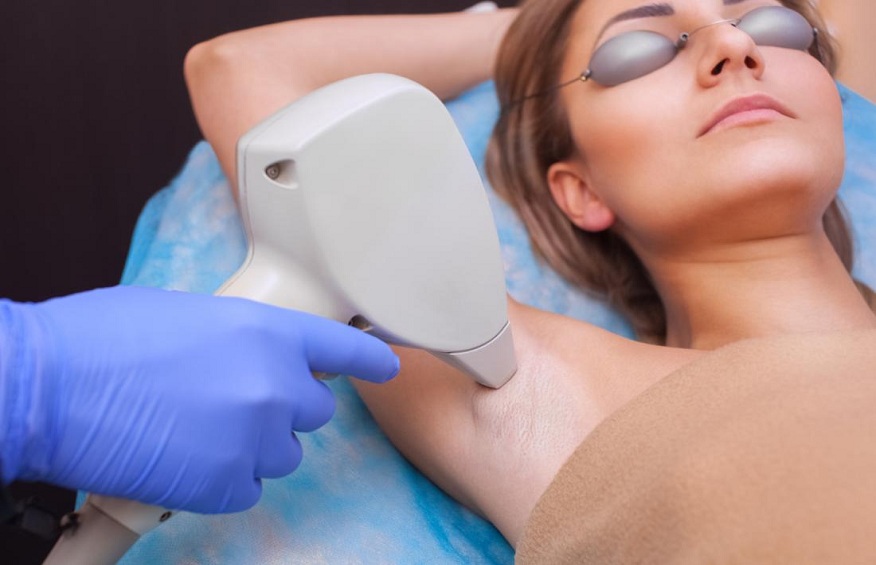 Unwanted body hair has been a common concern for both men and women for centuries. Over the years, countless methods have been developed to tackle this issue, from traditional shaving and waxing to more advanced techniques like electrolysis. However, one method that has gained immense popularity in recent years is laser hair removal. This revolutionary procedure offers a long-lasting solution to unwanted hair and has transformed the lives of many individuals. In this article, we will explore the magic of laser hair removal and why it has become the go-to choice for people seeking smooth, hair-free skin.
How does laser hair removal work?
Laser hair removal works on the principle of selective photothermolysis. During the treatment, a highly concentrated beam of light, emitted by a specialized laser, targets the melanin in the hair follicles. This intense light energy is converted into heat, which damages the follicles and inhibits future hair growth. The procedure is precise, targeting only the hair follicles while leaving the surrounding skin untouched, making it a safe and effective option for hair removal.
Why laser hair removal over other hair removal methods?
One of the most significant advantages of laser hair removal is its long-lasting results. Unlike traditional methods such as shaving or waxing, which provide temporary relief and require regular upkeep, laser hair removal offers a semi-permanent solution.
How many times will I need to laser my hair for it to be removed permanently?
Laser hair removal requires multiple sessions to achieve optimal results, and occasional touch-up sessions may be necessary in the future.
The number of initial laser hair removal sessions required varies from person to person, depending on factors such as hair type, skin color, and the area being treated. However, most individuals experience a significant reduction in hair growth after 4 to 8 sessions.
With each subsequent treatment, the hair becomes finer, lighter, and sparser until it eventually ceases to grow altogether. This long-lasting effect is a game-changer for individuals looking for a hassle-free solution to their hair woes.
What areas can be treated with laser hair removal?
Another compelling aspect of laser hair removal is its versatility. The procedure can be performed on almost any part of the body, including the face, arms, legs, bikini area, and back. Whether you're bothered by upper lip hair, pesky underarm stubble, or excessive hair on the chest or back, laser hair removal can effectively target and remove unwanted hair from these areas.
Additionally, it is equally suitable for both men and women, making it a popular choice for people of all genders.
Why do people opt for laser hair removal?
Laser hair removal offers several benefits over other traditional hair removal methods. For starters, it saves time and effort. Shaving or waxing frequently can be tedious and time-consuming, often leading to skin irritation, cuts, or ingrown hairs.
With laser hair removal, there's no need to constantly reach for the razor or book frequent salon appointments. Once the desired results are achieved, minimal maintenance sessions may be required to keep the skin smooth and hair-free.
Moreover, laser hair removal can be a cost-effective solution in the long run. While the upfront cost may seem higher than other methods, such as waxing, when you consider the cumulative expenses over time, laser hair removal proves to be more economical.
With the reduction in hair growth and the elimination of regular maintenance, you can say goodbye to the expenses associated with razors, waxing kits, and salon visits. It's an investment in your convenience, confidence, and peace of mind.
Who are the best candidates for laser hair removal?
It's essential to approach laser hair removal with realistic expectations. The procedure works best on individuals with fair skin and dark hair since the laser targets the melanin in the hair follicles. People with lighter hair colors, such as blond or gray, may not experience the same level of success.
Laser hair removal is a groundbreaking solution to unwanted hair
In conclusion, laser hair removal is a groundbreaking solution for those looking to bid farewell to unwanted hair. Its long-lasting results, versatility, and time-saving benefits make it an attractive option for individuals seeking a semi-permanent hair removal solution.
With advancements in technology, laser hair removal has become safer, more efficient, and more accessible than ever before. If you're tired of the endless cycle of shaving, waxing, or plucking, it might be time to consider laser hair removal and unlock the magic of smooth, hair-free skin.