Night Time Massage Therapy Routine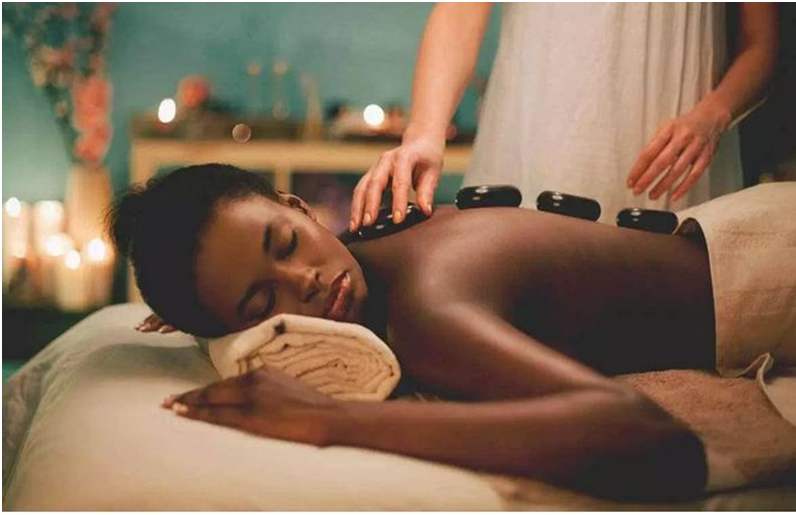 Insomnia is common among adults due to various health conditions, stress, poor lifestyle, or fatigue. Some people think that if they get exhausted, they will fall asleep faster. Unfortunately, that is not how the brain works, and you may find it hard to catch a nap when you're tired.
So, what do you do in such a situation? A relaxing, heartwarming, and lively massage can trick your brain into falling asleep faster. According to the National Institute of Health, massage therapy works well to reduce tiredness and improve sleep. Massages are proven to enhance sleep in infants, elderly people, children, and even middle-aged adults.
Well, not just any kind of massage can do the trick, especially if you have severe sleep problems. You need to follow this simple night time massage therapy routine to make it easier for you to fall asleep.
Take a Warm Bath
Taking a warm bath should be your first step in following a simple massage therapy routine. This will be more enjoyable if you have a bathtub at home because you need to soak yourself into warm bath water for 15 minutes. This is a moment of relaxing the muscles and loosening the tight areas in your body. It also loosens the tissues around the joints to make you more flexible.
The warm bath is also a remedy for inflammation and increases blood and oxygen flow to the entire body. A hot tub before a massage prepares your body for the massage to make it easy and fun. Dry off thoroughly after the bath and rinse yourself with some cool water to close the skin pores.
Listen to Some Soft Music
It is not only your physical body that needs some relaxing night time massage. Whenever you get exhausted, your body, mind, and soul need to relax. Music is a way to get some emotional relaxation, meditate, and forget about the stressful day.
Music works just like massage therapy to reduce hormone cortisol, which is a stress-causing hormone. A piece of good music while lying on a massage table or a dim room can reduce the anxiety levels.  The joy of good music causes the blood vessels to expand, improve blood floor to the entire body, and improve cardiovascular health.
Doctors across the globe agree that music therapy works to help ease chronic pain. It helps those suffering from anxiety and depression. A combination of music and massage can, therefore, work wonders to give better results. It should not just be any music but a tune you're familiar with to help you unwind and concentrate on the massage.
Start the Massage
Now that you've prepared your body and mind for the massage, it is time for the main course, which is the massage itself. Now because this is the moment you were preparing so much for, you need to get ready. Ensure you have a good massage chair or table. Prepare one of the best massage oils that you'll use to rub the body and feel the full effects of the massage.
A good massage relaxes your muscles, boosts energy, and relieves stress. This is just a way of finishing the benefits you had started experiencing with the warm bath and music. Don't worry if you can't afford a professional massage or have no one around the house to give you a hand. Self-massage can still do wonders.
Start with massaging your feet from the center of the sole. You can also heat your feet from the ankles to the sole and allow it to experience the steam from the warm water. Foot massage is the easiest to do because both your hands can reach the feet, and you can see all the parts of your leg. Use your thumbs to rub your soles and toes. A good foot massage can regulate the function of the brain and induce sleep.
As much as you want to concentrate most of your efforts on the feet because it feels nice, don't forget other parts such as your head, face, ears, neck, shoulders, and abdomen. Also, ensure you try to reach some parts of your back to ensure almost all parts of your body. Keep your mind focused, take full breaths, and ensure you enjoy the whole process.
Drink a Cup of Warm Milk or Herbal Tea
Drinking a warm glass of milk or a cup of herbal tea after a nighttime massage is recommended as part of your daily massage routine. Warm tea helps your body get rid of substances that your body received during the massage. The blood circulation that happens during a massage eliminates sweat and minerals from your body muscle cells. Supplying a hot liquid to the body afterward helps get rid of the substances so that your body can remain fresh and energized. These substances, if left in the body, accumulate around muscle fibers, causing muscle pain.
During the massage, you meditate and think beyond where you're physically present. Your mind flies far away to allow the body to feel the full force of the massage. Some people might feel a little disoriented after the massage. Hot tea or milk brings you back to reality smoothly and pleasantly.
Lie-Down in Comfortable Bedding
After taking the hot tea, find a comfortable place to sleep. Remember, your body and brain are relaxed, and sleep is just around the corner. Do not be tempted to lie down on the sofa because you might find yourself there in the morning. Ensure you get all the support you need from a comfortable mattress, pillow, and leg rest. Comfortable bedding enhances the quality of sleep and ensures you wake up in a good mood.
A night of good sleep can have some very heavy impacts on your health. A good massage routine is an excellent way to improve the quality of your sleep and ensure you wake up in a good mood. It can be difficult to maintain a professional massage session every night. You can make the process easier, fun, and cost-effective by asking your partner for massage therapy.
Resources: Hot Tub Works, ACFB, Sleep, Clary Sage College