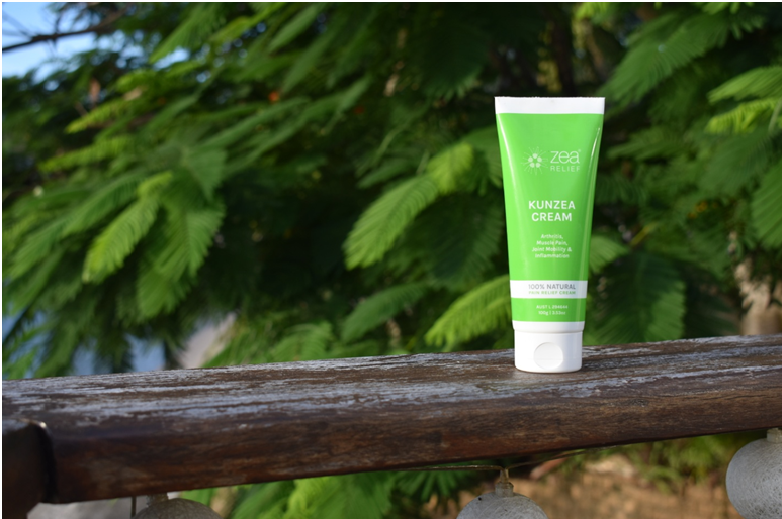 Your joints begin to ache and you start being in so much pain, all because your arthritis is acting up again. It really hurts, right? In spite of age, young and on the go, or old and staying home, arthritis is a force to be reckoned with. But, once you meet Zea Relief, Tasmania's best natural kept secret, everything will start to glow differently. They are the first to develop a 100% natural product range containing unique therapeutic and pain-relief benefits of Australian Kunzea Natural Oil.
Zea Relief is founded by an Australian family as a business. It was developed by a natural range of Kunzea products and pure essential oils. The products are toxin and cruelty-free, 100% natural, and of therapeutic quality. The products have been naturopath-formulated to assure maximum quality and safety.
Derived from the Kunzea ambigua plant, which flourishes in the North-East Tasmania pristine wilderness, the Australian Kunzea Oil is naturally clean, fresh and has an invigorating aroma.
Its special therapeutic uses and benefits are thanks to the high content of several essential C15 compounds. Kunzea Oil has an organic composition that makes it unique. The major components are as follows:
Alpha-pinene 52%
8 cineole 12%
Alpha-terpineol 2%
Bicyclogermarcrene 4.4%
Globulol 7.6%
Viridflorol 6.8%
An active ingredient in the Zea Relief Kunzea Product is the Australian Kunzsea Oil (AUS L 294 644). These products are the first of its kind that contains the therapeutic benefits of Kunzea Oil and were created to be highly effective.
Arthritis causes sore joints, aches, and pains. Those discomforts are targeted by the oils, then they are absorbed by the oil through the skin that has the inflammation. The active components of the oil that triggers the healing process of the body to help relax the muscles and ease the pain. Other approved conditions may also be worked out with this product.
Not only do these refreshing and aromatic oils have a number of key benefits, but they also have various therapeutic uses. These include:
Safe and suitable for most skin types
Organically grown (without certification)
Sustainable wild-harvested in Tasmania
Helps decrease inflammation and pain
Aromatically uplifting and invigorating
Their vision is aspiring to be the leading provider and knowledge base for Australian Kunzea Oil Products in the world. Yet to come out stronger, they are striving to show that their essential oil has full medicinal potential and be able to use them in a positive manner that will help impact the lives of the people around the world.
Their mission is to commit to building awareness for the extensive and diverse benefits of the Australien native oil.
Warning: Health practitioners must give you the go-signal to be able to apply oils, much like most essential oils. It is recommended that when you would like to apply some oil onto your skin, try the Zea Relief Products.
So hurry! kunzea & pure essential oil online are now available!